Get ready to run a fast 40 yard dash and get the combine results you want!
Do you want to run a 4.4 sec. forty yard dash, dominate a football combine and have scouts chasing after you?
Sneak away with every single secret, tip, technique, and complete training program an NFL Combine Training Expert uses to blow away the competition each year!
(Note: This Combine Training System gets the results you dream of. So much that NFL Combine participants each pay me in excess of 10,000$ for this information)
If you want to blow up football combines, maximize your potential, aspire to play at a higher level of football, and have college and pro scouts knocking on your door, then discover how to do all of this in only 8 weeks with my Combine Freak Training System !
My training for football combines has been featured in/on:
Hi, I'm Mike Gough, a renowned NFL Combine training expert who every year helps athletes from high school to the NFL prepare to kick butt at football combines. From getting a lucrative D1 football scholarship to being drafted in the top 10 of the NFL Draft, my athletes year after year produce results that lead the way and get the net result: Making the Next Level!
But just like you, I understand going out and clocking a fast 40 yard dash and a sky high vertical jump is not as easy as it sounds.
Years ago, when I was playing football in high school and college I was constantly looking for a training program to help me reach my potential, get me faster, quicker and more explosive, not to mention improve my 40 yard dash time. I grew frustrated not getting any results from all that hard work I was putting in.
So over the past 15 years I have studied and watched endless hours of football combine videos breaking down the football combine tests. I have developed specific protocols for each test and a training program that plain and simple, gets freakish results.
The result is a complete football combine training system that delivers on its promise to help athletes like you kick butt at football combines when it's all on the line!
With Mike Gough's Combine Freak Training System, you can now lower your 40 yard dash, increase your vertical jump, and add reps to your bench press!
I know you have probably seen many of my clients performing on Sundays in the NFL, but what you may not know is the route that got them there. Some were first rounders, some late rounders, and some of these athletes were not even drafted!
With all of these athletes there is one common denominator: they tore up they NFL Combine or NFL Pro Day workout in from of the NFL scouts.
The same applies for high school athletes looking to get the attention of the top NCAA Division 1 schools. If you attend a camp, blow away the testing, the phone will start ringing!
After years of studying and preparing athletes for the NFL Combine, I have developed a revolutionary Football Combine Training System that was designed to help athletes whether high school, college or the professional ranks maximize their performance in the football combine tests.
Far too often I go to football combines and see athletes that have not prepared for the tests, they have no clue what to do and they walk away discouraged with their results.
Now, with my Football Combine Freak Training System athletes can prepare, perform and succeed!
My Football Combine Training System teaches you the specific technical cues for each test in addition to a complete training program that take you right up until you testing day.
I have broken down endless hours of video of athletes performing the NFL Combine tests to learn the most optimal techniques for you to maximize your performance. Whether the 40 yard dash, or the sit and reach test, little tips and secrets can have the biggest difference on how you perform. At the end of the day how you prepare in the weeks preceding the football combine will tell in how you test.
You need to get ready and get prepared!
College Spohmore Sets School Record in the 40 Yard Dash and Vertical Jump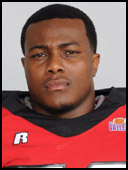 Deonta Tate – LB – Youngstown State
"Mike taught me all his secrets to football combine testing. This past spring at YSU we did our combine testing, I ran a 4.53 sec. 40 yard dash and jumped a 38" vertical jump at 230 lbs. Both were school records for my position. Mike's specific breathing technique for the 40 yard dash works. All my teammates were asking me to teach them how to do it. I want Mike to get my vertical over 40"+ before my junior season."
Addai runs a 4.37 sec 40 Yard Dash at NFL Combine, Moves Up in NFL Draft!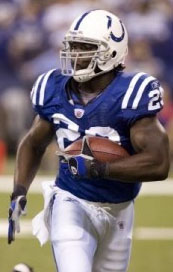 Joseph Addai –RB – Indianapolis Colts 1st Round Pick 2006 NFL Draft
2007 Super Bowl Champion
"At the NFL Combine I ran the fastest 40 I have ever run (4.37 sec.). Mike's training program fully prepared me for the NFL Combine."
19 Year Old Youngest Athlete to go to NFL Combine, Adds 28 lbs. of Muscle and Runs a 4.82 40 Yard Dash.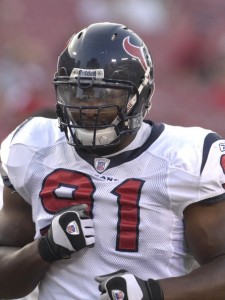 Amobi Okoye – DT – Houston Texans
"My 4.82 sec. 40 yard dash at my pro day elevated me into a top 10 pick at the NFL Draft. I have Mike's training program to thank for that. He also bulked me up to 302 pounds in 8 weeks while lowering my body fat."
High School Senior Runs 4.42 sec. 40 Yard Dash at University of Florida, Urban Meyer Calls High School Coach Immediately!

Damien Copeland – WR – Louisville
"Mike prepared me for the college recruiting camps where I clocked a 4.42 sec. 40 yard dash and a 40" vertical at the University of Florida camp. When I got here at Louisville I clocked a 4.37 sec. 40 yard dash for the coaches. Mike's 40 yard dash techniques have helped me time and time again. His step by step teaching gets results!"
A True Combine Freak Performs at his best at NFL Pro Day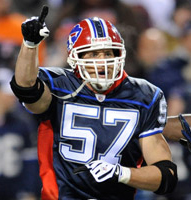 Jon Corto – LB – Buffalo Bills
"If it weren't for Mike's training and advice I would not be in the NFL today. He took me from a small 1AA prospect to the NFL with his training and preparation. If you are looking to test off the charts for the scouts, Mike is THE guy to get you there!"
Blows Up NFL Pro Day with a 4.48 sec. 40 Yard Dash and 40.5" Vertical!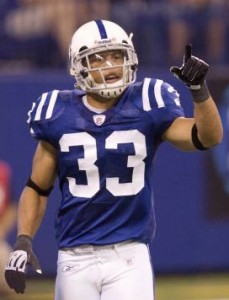 Melvin Bullitt – SS – Indianapolis Colts
"With Mike's training I had a pro day that blew the scouts away, 4.48 sec. 40 yard dash, a 40.5" Vertical Jump and a 10'6" Broad Jump. His program transformed me into a combine freak!"
Monroe Performs at NFL Combine, Selected 8th in NFL Draft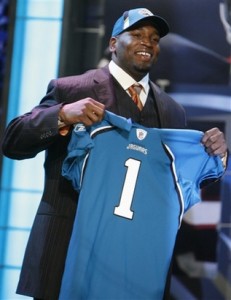 Eugene Monroe – Jacksonville Jaguars
"I highly suggest any football prospect train with Mike Gough. His knowledge and expertise in the Combine Tests helped me perform my best at the NFL Combine."
Discover how to train and prepare specifically for a football combine, reaching your peak at the right time!
Preparing for a football combine is like preparing for a test, with the exception is that you know what questions they are going to ask, but you just need to find the right answers. You also need to peak at the right time.
Unfortunately athletes can't do this on there own. They might have some direction for two or three days, but then will procrastinate. Imagine waking up looking at the program, and seeing exactly what you should do each day. It's that easy!
This detailed, combine specific training system will make you the most marketable football prospect, finally giving you the testing results you have been searching for. Not to mention your improve speed, strength, agility and power will make an impact on the football field as well!
Do you want to run a 4.4 sec. 40 yard dash?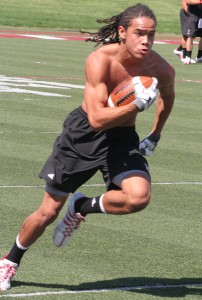 Just ask Damien Copeland! Last year I trained Damien Copeland, a wide receiver from Palmetto High School, helping him prepare for several summer camps at colleges. He had no early scholarship offers and had to do the camp circuit to showcase his ability.
I worked with Damien on his 40 yard dash technique, short shuttle and vertical jump as these were the tests in which he was to perform at the camps. At the University of Florida camp he clocked a 4.42 sec. 40 yard dash. As he crossed the finish line the coaches looked at their stopwatches, then looked at each other and started whispering to each other. Minutes later Urban Meyer was calling his high school coach to find out more about him and to request film. Damien then followed that up with a 40" vertical jump.
He did the same thing at Syracuse, Virginia, Auburn and Louisville. He ended up committing to the University of Louisville. This summer, it was only his 3rd day on campus when he clocked a 4.37 sec. 40 yard dash that was fastest on the team.
This is the power of my Combine Freak Training System.
You see I know there are so many athletes out there with the potential to perform at the top, be a success, and reach their peak potential. But they lack the guidance, direction and the blueprint for success. Other pay "training gurus" thousands and walk away unsatisfied with their results and realize their program is all hype.
Is this you?
It time to get down to some Real Work that produces Real Results!
I am sure some of these training gurus out there think I am crazy to give away this complete Combine Freak Training System for such a steal. This Training System packed full of so much information, it is everything you would ever need to run the 40 yard dash of your life and jump through the roof!
With the Football Combine Freak Training System you will get a structured, step by step blueprint towards combine success. I cover both the training side to get your body into peak condition and the technique side to assure that your combine test technique is as efficient as possible.
So take a look at what I am including in the Combine Freak Training System!
So what does the Combine Freak Training System Include?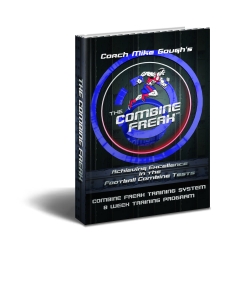 You get the Combine Freak Elite Training Program. This 4 phase 8-week football combine specific training program takes you from A-Z in your preparation. It provides a detailed daily workouts with the exercises, sets and reps all laid out for you.
It will enhance and unleash your speed, strength, agility, power, and flexibility elevating your athleticism to a new level. It also includes my final peaking phase for the week leading up to the combine to put the polish on your hard work and to make sure your body is tuned and ready to go! (Note this program is what I use here in Florida with my athletes preparing for the NFL Draft) Value ($247)
---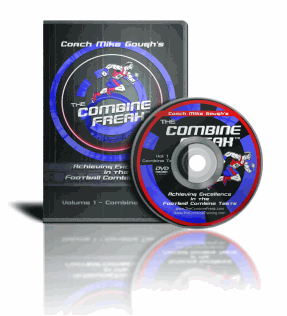 You get my best selling Combine Freak DVD that teaches you step by step how to perform the football combine tests properly. The DVD goes into great detail on the 40 yard dash, short shuttle, 3-Cone shuttle, vertical jump, broad jump, bench press, flexibility tests, shoe selection, thought processes, and much more! Value ($60)
---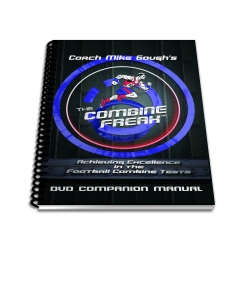 You get the Combine Freak DVD Companion Manual which walks you through the DVD and has added information and insight to get the most out of viewing the DVD. Value ($50)
---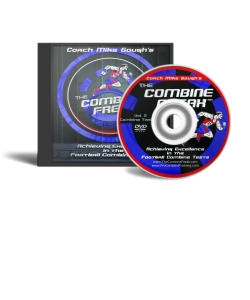 You get Combine Freak Training DVD Vol. 2 that details many of exercises we use here in Florida preparing out athletes for the NFL Combine. It will aid you understanding the exercises included in the training program, as you will get to view these exercises in real time with proper form and technique. This video footage has not been see before! Value ($80)
---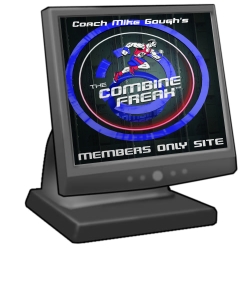 BONUS if you take action today, you get a free membership to my CombineFreak Membership Site where you can post videos and interact with other athletes who are a part of the Combine Freak Nation! Value ($260)
---
THE COMBINE FREAK TRAINING SYSTEM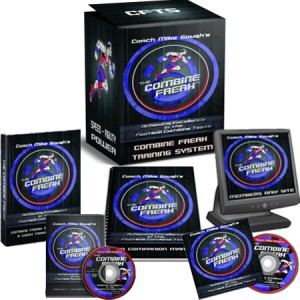 AND Today you get the opportunity to get the complete Combine Freak Training System and membership site (Valued at $697 for the Low Price of $197)
That's a Savings of $500 if you take advantage of this offer right now!

Get an 8 week program that will give you a day by day plan to take your combine performance to the next level.
My Combine Freak Training System is so comprehensive that we cover the "little details" everyone else overlooks…
Learn to lower your reach to increase your vertical jump
Feel confident with your thought process before running the 40 yard dash
Learn how to increase you bench press reps with our special bench press endurance workout
Experience what it is like to walk into a football combine knowing you are going to dominate it!
Understand why the turns are so important to running a fast shuttle time
Witness increased muscle mass and lower your body fat with my training program
Learn how your head position can let you clock a blistering 40 yard dash time
Become faster and quicker with my footspeed and plyometric training
Learn what core exercises will help you run a faster 40 yard dash
Witness gains in explosive power in the hips, legs and core
Learn the one drill that will help you dominate the agility tests!
Be the Athlete at the combine that performs so well that everyone is jealous of!

So much more I am only scratching the surface!
Don't leave anything to chance in your Football Combine Preparation
Right now I bet you are sitting there asking yourself:
"Will this program work for me?"
Whether you are an athlete, coach, trainer or parent the Combine Freak Training System is complete package when it comes to blowing up the football combine tests. It will give you the results you have always wanted!
Just ask Jon Corto of the Buffalo Bills. It was Christmas 2006 and while my wife was walking our two basset hounds, she met a man on street walking his dog. They got talking and he said his son played at a small 1-AA school, and was coming down for the holidays. Jon ended up coming into my training facility, and wondered what I thought of his chances to play football after college. He said that he would play anywhere, NFL, CFL, AFL, indoor…. Anywhere!
I worked him out and he was athletic, and had that burst and motor that is a prerequisite for the pro level. I thought given the right opportunity he could play in the NFL. At first he was like "are you serious?" doubting his ability. Soon he was into the training program with me and started believing.
After weeks of training, he attended the Syracuse NFL Pro Day, this was his coming out party. He ran a 4.56 sec. 40 yard dash, jumped a 41.5" Vertical Jump, 6.50 sec. 3-Cone, and a 4.09 sec. short shuttle.
He turned the scouts heads and put himself on the radar.
He ended up as a free agent invite to the Buffalo Bills where he earned a contract, then practice roster, then the active roster.
If it weren't for Jon's domination of his audition in front of the NFL scouts, he may have never made it to the NFL.
That's the power of the football combine tests, they can either make or break you… You only have one chance, you need to make the most of it.
So YES the Combine Freak Training System works! It's been tested through and through with Elite NFL prospects. They get mind blowing results now you can too…
Don't wait any longer to get started!

Look at the results I get with this training program!
Scout.com: NFL Workout Wonders Who Worked Out

Ten players who boosted their stock considerably due to their big-time workouts, and their teams who have not regretted the moves.

9. Joseph Addai, RB, Indianapolis Colts- Addai was a solid running back at LSU, but never topped 1,000 yards in any of his four collegiate seasons. His fine combine performance which included a 4.37 40-yard dash and a 38.5 inch vertical leap helped convince Colts general manager Bill Polian to select him with the 30th overall pick in the 2006 draft. Since being selected, Addai helped the Colts win a Super Bowl as a rookie, and has been over 1,400 yards from scrimmage twice, including 30 career touchdowns. Addai enjoyed his best season as a pro in 2007, as he ran for 1,072 yards, caught 41 passes for 364 yards, and had 15 total touchdowns, earning him a Pro Bowl selection.
ESPN.com - Top 10 Winners from the NFL Combine

ESPN's Todd McShay reports…

• Mark Anderson, DE, Alabama Anderson disproved a lot of critics who questioned his speed and athleticism when he turned in one of the most impressive all-around workouts of the defensive linemen at this year's combine, finishing near the top of his group in the 40-yard dash (4.61), broad jump (10-foot-7, vertical jump (42 inches), three-cone drill (6.95), short shuttle (4.22) and long shuttle (11.75). This type of showing could land Anderson in the latter portion of the draft's first day after previously being considered to be nothing more than a second-day prospect."

• Joseph Addai, RB, LSU Addai Addai's inconsistent collegiate career and history of durability issues work against him, but his natural ability helps to overshadow those concerns. By running both 40-yard dash attempts in the low 4.4s, high 4.3's at the combine, Addai may have cemented a spot as the fourth running back in this year's class.
SportsIllustrated.com - Movers and Shakers from the NFL Combine

SI's Tony Pauline reports…

The top performing running back was Joseph Addai from LSU. After a scorching time of 4.37 in the 40-yard dash, Addai looked comfortable catching the ball and displayed a variety of ball carrying skills.
Learn the Dark Secrets to Gain an Edge at Football Combines!
Don't kid yourself… You can't wait till a week before the combine and try to get a game plan figured out. You are setting yourself up for failure. Plus you are going to be out performed by athletes who have been following a structured program like the Combine Freak Training System for 8 weeks.
If you are still scratching your head let me make things clear for you!
What will this Program Cost me?
The cost of the Combine Freak Training system is only $197, but I am giving you over $697 in products to help you reach your goals. Think of it this way, if you secure a college football scholarship or a pro contract from your combine performance, the Combine Freak Training System is priceless! Also think of what it would cost you travel down here to Florida for 8 weeks to train with me? Upwards of $15k including training, lodging, meals and car. Come to think of it I must be crazy to offer this at such a low price!
What equipment do I need?
To perform the training program you need a field or turf area to run and perform the drills on. Also you will need access to a simple gym setup that has a bench press, squat rack, dumbbells, and weights. You do not need any fancy equipment!
How complex is the training program?
The training program is what I use down here with my athletes preparing for the NFL Combine, it is a demanding training program that gets you the results you are looking for. The complexity of the program is determined by the intensity you put into the program. The harder you work the more results you will achieve!
How in-depth is the Combine Freak DVD?
The Combine Freak DVD teaches you each and every detail on how to perform every test performed at the NFL Combine. I go into the smallest of details, all which can have a huge impact on your performance. To blow the scouts away you have to master the technique for each and every combine test!
Does the Combine Freak Training System come electronically or hard copy?
The Combine Freak Training System is a hard copy program. Once you place your order we will ship out a box that will be delivered to your house containing the Combine Freak Training System. This Includes the DVD's and Manuals. The Access to the membership site will be e-mailed to you after purchase.
Stop Wasting Time, Elevate Your Combine Performance!
If you are preparing for a Football Combine, my Combine Freak Training System will no doubt elevate you above the competition.
Trust me I have been there, getting frustrated with putting in the work and not seeing the results. The answer is a comprehensive training program that has a proven track record for getting results!
That's exactly why I have put together this training system based on years of experience and proven results. This training system is designed for you to reach your goals and avoid frustration.
So don't wait another second, click the link below to get started on you way to running a blistering fast 40 yard dash and a knockout combine performance.
The Combine Freak Training System has worked for so many athletes and it will work for you too! All you have to do is click the link below and I promise you are going to be blown away with the results you will get.
If you are serious about becoming the best you can be, take control of your future!
Mike Gough
NFL Combine Training Expert

P.S. If you are sick and tired of training without a clear cut blueprint towards your goals then use the Combine Freak Training System to lower your 40 yard dash time and become a combine freak!
P.P.S. Remember this introductory price will not last for long, when you take into account the individual price of this package is $697, this is a steal!
P.P.P.S If you order this right now I will throw in free access to my Combine Freak Membership Site for free (a $260 Value)!!!! Click the link below to take advantage of this special offer!!!