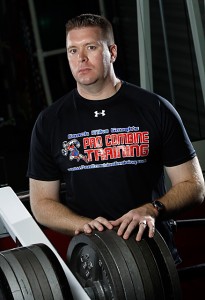 Mike is a world class strength and conditioning specialist who has trained athletes that have competed in the Olympics, World Championships, NFL, MLB, NBA and NHL.
Mike is currently the owner of Athletic Edge Sports Conditioning Center in Bradenton, Florida. He is a Certified Strength and Conditioning Specialist by the National Strength and Conditioning Association. Mike currently consults with elite amateur and professional athletes looking to elevate their sports performance conditioning.
Mike's NFL Combine Training Program, is sought after by elite college athletes looking to increase their draft status through mastering the NFL Combine Tests. His innovative training methods and unyielding dedication to his athletes maximizes their performance to the highest level of excellence.
Mike's training has been seen on ESPN, Fox Sports,  Men's Health Magazine, Men's Fitness and SI.com. Mike has authored seveal training manuals, along with DVD and a line of high end speed training equipment. Mike recently launched his Football Combine Freak Training System for athletes preparing for football combines.