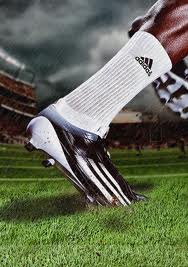 I am constantly searching for anything to improve athletic performance of the athletes I train. Whether a pair of shoes, clothing, or training technique I am all ears when it could give my athletes an advantage in the 40 yard dash.
At the NFL Combine this year I was introduced to a new Adidas football cleat that they were trying to get as many athletes to wear as possible when the camreas are on.
Usually I am skeptical when it comes to footwear, I have my favorite shoes I like my guys to run in. But when I saw these shoes I immeadiately thought they could give my guys an edge to run a faster 40 yard dash time.
These shoes are 6.9 ounces, yes you read that correctly! But the thing is with these cleats are they are supportive enough to allow you to play football in them. They are in my opinion the BEST cleats on the market today.
If you are looking for a shoe to run the 40 yard dash in, or to play football in, you need to get a pair of these cleats!
Check out the Adidas adizero 5 Star Football Cleat